Author: BennyL - Published 04-15-2021 12:39PM - (241 Reads)
What is a Lender Reissue Account?
A lender reissue account would be a customer account configured for reissue only access. This type of account will be set with a test subcode and not have access to order any products. A user account will be required for LOS and DU access and the seller number will be required for LPA/LQA. Depending on who will be paying for the reissues, the account can be configured with the SREISSUE special option if the lender pays or the OREISSUE special option if the broker/file owner pays. The reason for this is that lenders will typically need to reissue files belonging to other customers so this setup will give them the proper access required.
How to Setup a Lender Reissue Account
1. Create a new customer account and fill out the customer name, customer type, address, contact name, contact email, and contact phone. Be sure to enable the SREISSUE/OREISSUE special option depending on who pays for the reissue and SU. The remaining fields can be configured as normal
2. Create a new user for the account that will be used for Fannie and the default user for FHLMC. This login should have the permission for Viewing files for other users, no access for report/supplement/rescore ordering, the OFF_INACTIVE special option and always allow for the reorder limit. Typically lenders will not need website access so you can add the -WEB restriction as well. The password can be manually configured or via email.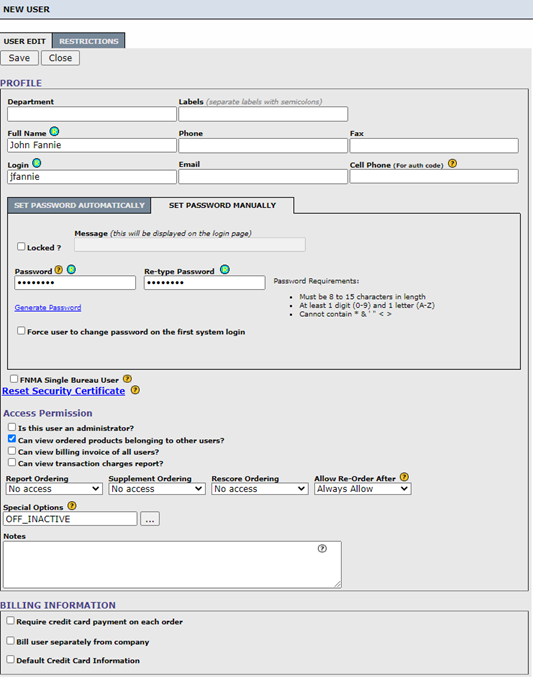 3. Configure the account to use the ML TEST CODES which should already be in your system. For Freddie, set the FHLMC provider to FHLMC, select the default user, and add their seller # after verifying if it is on the approved list but leave the branch code blank so you can enable for LQA which searches by seller # only so this value must be unique in the system.
Afterwards you will have a lender reissue account that has access to reissue files for other companies like the LDAP accounts. You can provide the lender with the credentials for the account so they can run Fannie and if they have an approved seller # they can run Freddie as well. If the client is looking to run Freddie and does not yet have an approved seller #, please reach out to MCL Support to coordinate with Freddie Mac.